Previous Maps of Australia (1650-1814)
Although Europeans had not yet discovered Australia, many believed that there was a Great Southern Land long before explorers saw it. This unknown land was already flourishing with a large number of Aboriginal people. The shape of this continent gradually changed as explorers mapped and studied the place. Until 1901, Australia's shape and complexity was only known by European cartographers and explorers.
These selected pictures show how some early cartographers and navigators picture parts of Australia: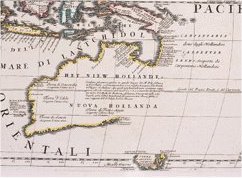 Vincenzo Coronelli (1650-1718)
This map indicates the route Abel Tasman sailed when working for the Dutch East Indies Company.
Coronelli painted this in c.1696 in Venice, Italy. Extract from the book: Asia divided according to its present parts (Italian)
Matthew Flinders (1774-1814)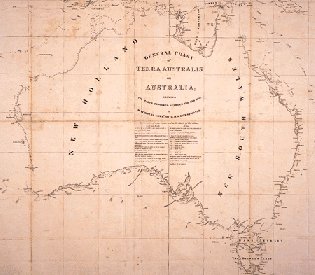 This map is a general chart showing where Flinders explored between 1798 to 1803. It was published in the atlas accompanied by Flinders Voyage to Teras Australis.
Capt. James Cook (1728-1778)
This map of Botany Bay was first charted by James Cook when he was exploring the east coast of Australia. Botany Bay is where Captain Cook first reached Australian soil.